Hello, bookish friends! How are you doing? The husband, the sister, and I had a wonderful time seeing Into the Woods in Central Park on Monday. It was an amazing production. If you live in the NYC area (and are willing to sit in line for half of the day) you should definitely check it out. The show is all about fairytales, and the characters include Cinderella, Little Red Riding Hood, and Jack (the kid from that whole beanstalk debacle). Here's a picture of one scene. I don't have any personal pictures - the Shakespeare in the Park people are notoriously strict about not allowing audience members to take pictures.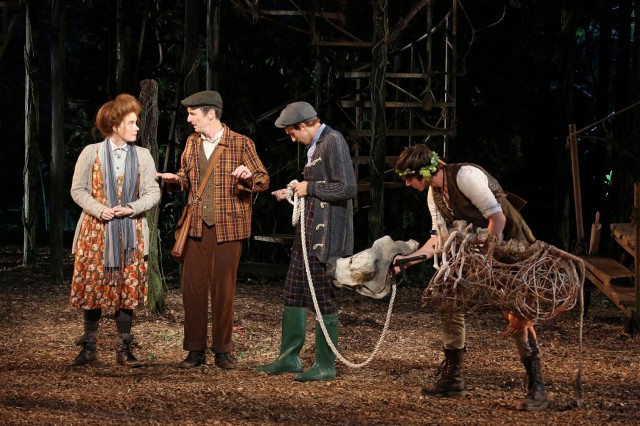 The Baker and his Wife agonize over the price of 'a cow as white as milk'
and young Jack wonders if he can part with his best friend.
source
Also, if any of you live in Central NJ, I will be performing in a music festival this Saturday afternoon. It should be a good bunch of performers. If you are in the area and interested, send me a message and I will let you know the details.
Read This Week:
A Soft Place to Land
By Susan Rebecca White
The Song of Achilles
By Madeline Miller
The Siren of Paris
By David LeRoy
Posts from this Past Week:
It's Monday
Wednesdays with David: The Dump Man's Treasures
Reviews of
The Chaperone
,
Girl Meets God
, and
Gone Girl
Reading Now:
The Unlikely Pilgrimage of Harold Fry
By Rachel Joyce
Up Next:
Tender Is the Night
By F. Scott Fitzgerald
What did you read this week?