Hour Twenty-Four (and change) Update
There has been much reading and snacking and chatting through our computers. As usual, I got many more books that I could possible read, but I still feel pretty good about reading five books and almost 1,500 pages. For a grand total of books/pages read, you can visit the 24 Hour Readathon page here.
1. Which hour was most daunting for you? Well, I have never read for a full 24 hours. People tend to like their worship leader conscious during services on Sunday morning and I also have to get my children there. I happily crawled into bed before 2 a.m., which was hour 15 or so.
2. Tell us ALLLLL the books you read! In order: The Female Persuasion by Meg Wolitzer (454 pages), Awayland by Ramona Ausubel (240), Exit, Pursued by a Bear by E.K. Johnston (248), Hyperbole and a Half by Allie Bosch (369), and Delilah Dirk and the Turkish Lieutenant by Tony Cliff (176).
3. Which books would you recommend to other Read-a-thoners? Short stories are always great for Readathon, so Awayland would be great. Ditto for comics--I can see myself picking up the other Delilah Dirk comics for the next Readathon. Exit, Pursued by a Bear was a great story (which should surprise no one, E.K. Johnston is excellent), and it's Readathon friendly because it is under 300 pages!
4. What's a really rad thing we could do during the next Read-a-thon that would make you smile? That's a great question, but I'm not sure. I think doing new things is fun at this point for those of us who have done many Readathons, but I also know that it is an incredible amount of work to make it happen for so many thousands of readers.
5. How likely are you to participate in the Read-a-thon again? Would you be interested in volunteering to help organize and prep? I will always be reading if I can and I am happy to volunteer in any way that the benevolent and wonderful organizers need.
Hour Twelve Update
And we're back! Here in New Jersey, it's almost 9 p.m. We enjoyed butter chicken for dinner, the kids are in bed, and it's time to get back to reading!
Here is my reading so far.
Finished - 454 pages
Finished - 224 pages
98 pages read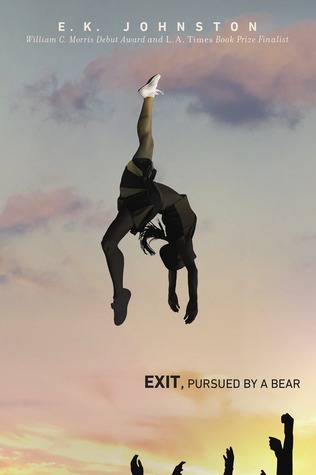 Just started!
Reading is even better with carrot cake...
Hour Six Update
Hello everyone! How is your Readathon going?
I've made it halfway through Meg Wolitzer's The Female Persuasion (about 250 pages) and read several short stories in Ramona Ausubel's Awayland. I've also had some toast, a lot of water, one cup of coffee, some crackers and brie, and a few bites of carrot cake.
I'm about to break up my day and head to my local library for their book sale. I promise to show off my new books when I get back!
It's here! It's Readathon time! Here's the opening meme.
1) What fine part of the world are you reading from today? My house in New Jersey. It's a little foggy now, but the sun is supposed to show up later. I'm looking forward to some outside reading!
2) Which book in your stack are you most looking forward to? I'm starting with The Female Persuasion, which I'm thrilled to be reading and I'm also looking forward to finally reading Hyperbole and a Half.
3) Which snack are you most looking forward to? I never did manage to go on a snack run yesterday, so we will see what happens!
4) Tell us a little something about yourself! Well, I just turned 31 (on Thursday). I have two kids, one husband, no pets, one keyboard, and many, many books.
5) If you participated in the last read-a-thon, what's one thing you'll do different today? If this is your first read-a-thon, what are you most looking forward to? I think I'm a Readathon pro by this point. I'm ready to read as much as possible without stressing about it!