Toy Story 2: Friends Forever
Step Into Reading, Step 2
By Melissa Lagonegro
Illustrated by Studio Iboix and the Disney Storybook Artists
Random House 2009
32 pages
From our shelves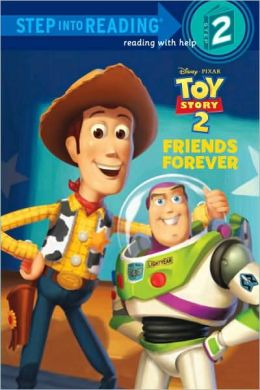 The story: If you have a small person living in your house, you know this story forward and backwards. Woody is kidnapped by a toy dealer who reunites him with the Roundup Gang. But the toy dealer plan to ship all of them to Japan! Buzz and the other toys must find Woody and bring him back home to Andy.

Mama opines: I don't have much to say about the story here, because what mom or dad doesn't know and love it? Or wish to never hear it again because the movie is on repeat in their home forever?
What I find interesting is the whole idea of the Step Into Reading books and other series that are supposed to help your child improve their reading skills. I haven't particularly seen them help David improve, but I certainly understand the excitement for a child who finds a book they can read all on their own. What are your experiences with tiered books like the Step Into Reading series?
Thoughts from David:
In Toy Story 2: Friends Forever, Buzz, Woody, and some other of the toys from Andy's house get into some kind of adventure. Although it is quite scary and hard, it is a mission to save Woody. First, they go across the windowsill. Then they walk on the sidewalk to the place where Woody was kidnapped! Next, they go to the building where Woody is. Then they go through the heater vent. Then they go back without Woody because Woody didn't want to go back. He didn't want to leave his friends behind. Then they go back. It will look like they will have a happy day.
Favorite part: When they go through the heater vent 'cuz Rex uses his tail to swing the door of the heater vent open.