Outside In
By Doug Cooper
Greenleaf Book Group Press August 2013
253 pages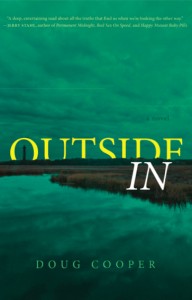 Brad Shepherd is a young teacher at a crossroads in his life. His job as a junior high math teacher ended abruptly with the death of a student and a subsequent lawsuit. Brad decides to take the summer to refocus and decide what he wants to do next. He travels to the island of Put-In-Bay, where he will spend the summer keeping an eye on unruly drunks at the bar...at least when he is not getting drunk or doing drugs himself.
Author Doug Cooper has extensive additional material available to accompany his debut novel, which you can find
here
. As I read, I found myself agreeing with many of the things he said, particularly that Brad has parallels with Holden Caulfield and that
Outside In
is a tale of a delayed coming of age. Brad has done everything that he should have done - gone to college, taken a job in a respected field - but when that is taken away, he doesn't know who he is without it. Mr. Cooper details the ways in which philosophy and the archetype of the hero impacted his story and those are both evident throughout. Unfortunately, it gives the book a somewhat uneven feel. The never-ending party has difficulty co-existing with the continual insinuation that this book is about deeper philosophical questions.
One of the great strengths of this book is the author's descriptive voice. From the moment that Brad first sees the island from the ferry, I felt as if I was seeing it in front of me. We see the dirty corners of the bars, the rough accommodations of the seasonal workers, and the beautiful hidden coves brought to life in a way that seems effortless.
Brad's story certainly serves as a cautionary tale about the effects of drugs and alcohol and how "having fun" can quickly spiral into addiction. The book is sometimes difficult to read because of that, but it serves to show us just how far Brad has fallen and the dark secrets that these party locales really hide. The end of the novel was difficult for me to believe because I imagine that it is a very difficult process for someone to detox after so many months of abusing drugs and alcohol. I also had trouble believing that the event that cements Brad's decision about his future would have done so when it is so similar to another event earlier in the book.
Outside In
is a powerful debut about the effects that our decisions have on our lives and whether we can start again.
I have one copy of this book to give away! If you want to enter, leave me a comment and tell me about an unforgettable summer that you've experienced.
For more reviews of
Outside In,
check out
TLC Book Tours
and the rest of the tour stops!
Monday, April 14:
Sara's Organized Chaos
Wednesday, April 16:
Bibliotica
Monday, April 21:
A Chick Who Reads
Wednesday, April 23:
Bewitched Bookworms
Thursday, April 24:
Knowing the Difference
Tuesday, April 29:
Patricia's Wisdom
Thursday, May 1:
Luxury Reading
Monday, May 5:
Literally Jen
Monday, May 12:
100 Pages a Day...Stephanie's Book Reviews
Thursday, May 15:
Booke Blogs
and
Cupcake's Book Cupboard
Monday, May 19:
Books a la mode
Tuesday, May 20:
Tiffany's Bookshelf
Wednesday, May 21:
Endless Days of Literary Ecstasy
Thursday, May 22:
Daily Mayo
Tuesday, May 27:
You Can Read Me Anything