Caleb's Crossing
By Geraldine Brooks
Viking May 2011
306 pages
From my shelves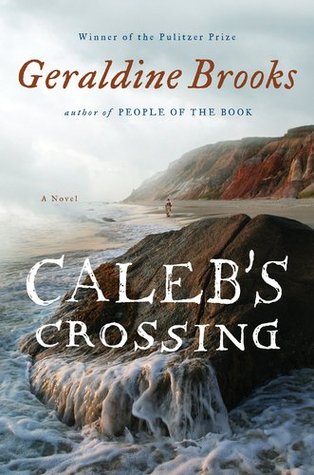 In 1665, a man from the Wampanoag tribe became the first Native American graduate of Harvard College. That is the only record that history leaves us about this person. But Geraldine Brooks has taken this tiny piece of history and created a rich story. Our narrator is Bethia Mayfield, a girl who is growing up as the daughter of a Puritan minister. As she wanders around their island home, searching for knowledge and freedom, she becomes friends with Caleb from the Wampanoag tribe. Although their lives look radically different, they find parallels in their struggles between a thirst for knowledge and a respect for tradition, and the pull of their families and the need for freedom.
It is no surprise to anyone who reads this blog that I am a huge fan of Geraldine Brooks and her historical fiction. She took readers back to 1665 and a small village that quarantined itself to prevent the plague from spreading in
Year of Wonders. People of the Book
had us imagining the origins of the Sarajevo Haggadah and
March
threw everything we thought we knew about our beloved Jo, Amy, Beth, Meg, and their parents right out the window. Ms. Brooks has a gift for fully inhabiting a time period and a set of characters, even if she is working from just one letter or historical document. I was equally excited and apprehensive to read
Caleb's Crossing,
because it is the last novel by Brooks that I had to read.
By telling Caleb's story through Bethia's eyes, we get to see twice what it means to be a second-class citizen. Both characters are seen as less-than, as an other in a society that gave respect based on your heritage as a white man. This is especially frustrating when Bethia and Caleb are contrasted with Bethia's brother, Makepeace. He gets every opportunity simply because he is a white male, although he is the least intelligent of the three.
Perhaps the trouble with this novel is that Brooks is true to her time period. As modern readers, we can see the potential of both Caleb and Bethia. But we know, as they do, that they are ultimately destined to live and die within the cruel constraints of their time and place. As we reach the end of the book and Bethia looks back at her decisions and the sacrifices she made, she almost has no choice but to be grateful. What else can she do as a woman of the 17th century?
I enjoyed reading Caleb's Crossing. As usual, Ms. Brooks brings history to vivid life and makes readers think about the differences between the past and the present. But it took me a while to really care for these characters. Readers new to Brooks' novels would be better off starting with one of her earlier novels.