Spring is just around the corner. Some days, it seems like it has already arrived! It's the perfect time of year to sit on your porch with a cold drink and a good book. Here are the ones I am hoping to read in the next few months.
1. A Tyranny of Petticoats, edited by Jessica Spotswood
15 stories of belles, bank robbers, and other badass girls, you say? Count me in!
2. Relief Map by Rosalie Knecht
A sixteen year old girl in rural Pennsylvania has an unforgettable summer when the FBI cuts off access to their town to find a fugitive.
3. What Is Not Yours Is Not Yours by Helen Oyeyemi
New Helen Oeyeymi. Need we say more?
4. The Bad-Ass Librarians of Timbuktu by Joshua Hammer
True story of an archivist who smuggled thousands of books to safety under the nose of the Taliban
5. Why We Came to the City by Kristopher Jansma
I loved Kristopher Jansma's
debut novel
and I am excited to read this one, about a group of friends five years after graduation.
6. Sleeping Giants by Sylvain Neuvel
17 years ago, a girl fell into a hold and landed in a giant metal hand. Now, as an adult, she is the top researcher to discover how that hand got there and what it means.
7. Hamilton: The Revolution by Lin-Manuel Miranda and Jeffrey Seller
The making of Hamilton the musical. You know, those songs that are on at my house all the day.
8. Sons and Daughters of Ease and Plenty by Ramona Ausubel
A wealthy family in the 1970s loses all of its money and has to figure out where to go. I adored her novel and her short story collection, so I can't wait to read this one!
9. Alice and Oliver by Charles Bock
Alice seems to have it all - a fantastic job, a great husband, and a brand new baby. But then she discovers she has cancer.
10. Imagine Me Gone by Adam Haslett
This book follows one man's struggles with depression through his eyes and those of his wife and children.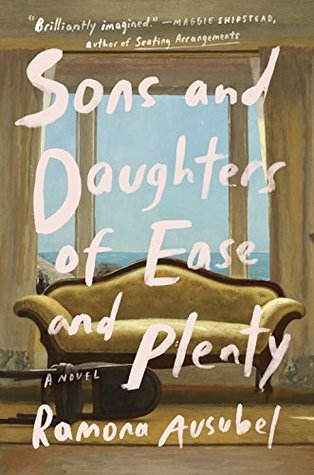 Which books are you excited to read this spring? Check out more Top Ten Tuesdays at
The Broke and the Bookish
!