If you are a reader, you probably enjoy reading historical fiction. We can't seem to resist visiting an Elizabethan castle or imagining ourselves as the brave woman who evacuates her neighbors during a bombing in World War II era London. But reading this kind of book can be frustrating because being a woman in the past was an incredibly different experience than the one we are having in 2018. It's not quite as exciting to read about a woman who dutifully follows the direction of her parents, marries young, and has several children. We like our heroines to have some spunk and pluck, to defy expectations, and take control of their own lives.
But how far is too far in historical fiction? Do we ignore the very real consequences that women faced for defying their fathers or husbands? Do authors purposefully ignore the restrictions that women had on their everyday lives? How much leeway do we give our female protagonists when they act in ways they never could in reality?
In
A Murder in Time,
FBI Agent Kendra Donovan is suddenly transported back to 1815. She quickly realizes that there is a murderer at work, but has a difficult time explaining how she knows that since forensic investigation isn't used yet. Kendra appears out of nowhere and is accepted in a wealthy household as a lady's maid. She's used to being in charge, so she should get into a fair amount of trouble both as a woman and as someone who is supposed to defer to her wealthier employees. I understand that it rather breaks the narrative if she gets fired from her job for being rude or gets sent to an asylum for knowing things she shouldn't, but it does seem somewhat ridiculous for the men of the house to unanimously decide it is charming for this crazy woman to act the way she does.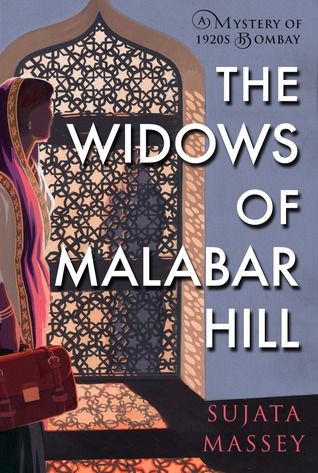 Similarly, in the first book of
The Agency Series by Y.S. Lee
, Mary Quinn goes undercover as a lady companion in London in the 1950s. While she is a woman of the Victorian era, she also happens to be a spy collecting evidence about the family she works for and their comapny. She is rude to her employees, she sneaks out when she should be working, and she often acts like a fairly modern woman without thinking about the consequences. Mary does have two safety nets with James, who is also investigating the company, and the knowledge that the all-female agency can pull her out if things get too complicated (after all, they saved her from the gallows once). But she still ignores many of the conventions of her day and we readers don't worry too much about it because she doesn't seem to believe there is any real danger.
The Widows of Malabar Hill,
a recent first book in a mystery series, seemed a bit more realistic to me. Perveen Mistry is our protagonist and she is the first female lawyer in India in 1921. Author Sujata Massey was inspired by the real-life women who practiced law around that time period. Perveen is able to solve the mystery, but this case is perhaps specially tailored to her; as a woman, she is able to gain access to the titular widows who are observing a strict period of mourning where they cannot speak to men. But we also see the ways it is difficult for her to navigate the world--she may be a lawyer, but she deals with mostly office work and research while her father argues in court. Perveen is also in situations where she has to decide if it is appropriate for her to go somewhere alone, which would never stop her fellow lawyers from talking to a client or finding answers to their cases.
So where is the line?
Can our heroines act courageously with some actual consequences? Who are your favorite spunky historical heroines?