The Qualities of Wood
By Mary Vensel White
Authonomy June 2014
312 pages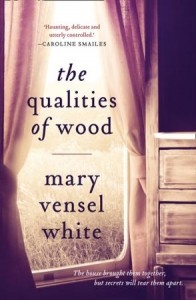 Vivian and Nowell Gardner are moving to the country. They leave big city life and Vivian's job behind to sort through and fix up the Gardner family home, which has fallen into disrepair. Nowell plans to use the peace and quiet to finish writing his second novel. Their new home is not quiet for long, though. The body of a young woman is found in the woods behind their house. The mystery remains unsolved and tension builds as Vivian finds herself surrounded by peculiar neighbors, a creepy forest, and an increasingly distant husband.
While the synopsis reveals a mysterious death, this story is not your typical murder mystery. While the circumstances behind the death will be revealed before the book ends, this story is less about the thrills and more about a slow build. The tension that increases throughout this story seems almost tangible. Vivians thought the quiet would be a time to strengthen her marriage and to figure out what she wanted to do next. Instead, she discovers that the isolation can be dangerous - there is no one to talk with, no one to confide in, and no one around when you need help.
The Qualities of Wood is perhaps best described as meandering. White introduces a lot of red herrings throughout the story. As Vivian becomes increasingly nervous about the mysterious death and distant from her husband, she begins to suspect everyone's motives. Nowell's brother Lonnie and sister-in-law Dot come to stay with the couple and Vivian wonders why they stay for so long and why there is so much tension between the brothers. Their home is supposed to be secluded, but it is suddenly inundated by their neighbor Mr. Stokes, people from the nearby town, and even a road crew. This approach has its merits - Vivian (and the readers) are never sure who is doing what and who has Vivian's best interests at heart. But it also feels at times that too many characters and plot lines are introduced without being fully utilized.
This is a perfect pick for the reader who really appreciates atmosphere. While this is not a thrilling page-turner, it is the kind of book that will make you think about your own relationships and perhaps peer into the shadows behind you. People who enjoyed Charles Frazier's novel
Nightwoods
or the classic film
Rear Window
will happily settle in with this debut novel.
Do you want to see what other readers thought of The Qualities of Wood? Read some of these other reviews!
Thursday, June 12th: Karen's Korner