Happy February, everyone!
I have found that when you read to a little person several times a day, sometimes you will hit a children's book slump. It seems like you have already read everything and you absolutely, will not, under any circumstances, read the book from the Cars movie one more time. When that moment strikes, I like to go back to the classics. Books with chapters that were written long before either one of us was born. We have varied levels of success. David did not appreciate Ramona or that crazy cat Socks. He sometimes will listen to Junie B. Jones, but we abandoned the latest one halfway through. (I know, they are newish, but how cute and funny is Junie B?) We love the Magic Tree House books, but the books we love best of all are the classic Winnie the Pooh books.
My sister gave David
Winnie-the-Pooh
and
The House at Pooh Corner
for Christmas. I thought it was time to add them to our collection since we got them from the library every other trip. He really sits and listens to each chapter, usually begging for one or two more stories. I think it's kind of hit and miss which books your child will like, even if they are books that you love. However, I think it's important to give your child a wide variety - easy readers and chapter books, newly published books and ones that you remember from your childhood. I have to imagine that reading longer books helps with attention spans too, which we could really use some work on!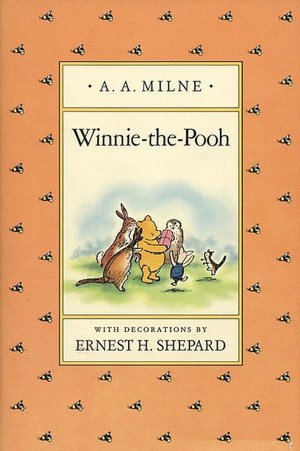 Winnie-the-Pooh and The House at Pooh Corner
By A.A. Milne with decorations by Ernest H. Shepard
Puffin Books 1992
The story: I'm fairly sure you know...
Mama opines: There is something so homey about classic children's literature, isn't there? The knowledge that nothing is going to happen in these pages that will make you wince, the feeling of meeting old friends again, the sneaking of glances at your little one to see how he is reacting - these are the moments when you know that reading to your child is priceless. And aren't the characters in these stories just like small children? Winnie the Pooh with 'little brain,' but very good intentions; Piglet who is scared of almost everything; Eeyore who is grumpy because he never quite gets enough attention; and Owl and Rabbit who attempt to convince the rest that they know more than they do. My favorite moments, though, are the ones when the author breaks into the story. The stories are, of course, inspired by his own son Christopher Robin, his stuffed animals, and the walks that father and son took through the woods near their home. The love that Milne had for his son spills onto every page and begs to be shared with a little one who you love.
Thoughts from David: Well, I really really really love the parts that have Winnie the Pooh and my favorite is when they build a house for Eeyore.
Who is your favorite? Winnie the Pooh? Tigger? Eeyore? I like all of them! Everyone in the Hundred Acre Woods!
"Piglet sidled up to Pooh from behind. "Pooh?" he whispered.
"Yes, Piglet?"
"Nothing," said Piglet, taking Pooh's hand. "I just wanted to be sure of you."
See you in the Hundred Acre Woods, friends!