Geronimo Stilton, Mouse in Space
Scholastic 2013
108 pages
From the library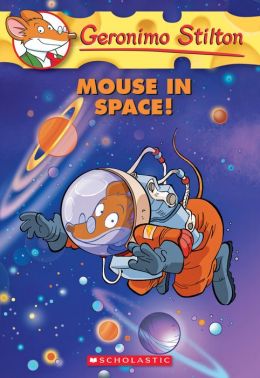 The story: Geronimo Stilton is the editor of a newspaper and a mouse who can't seem to stay away from adventure. In this book, Geronimo must save the rodents of New Mouse City from an evil professor with a dangerous invention. To defeat the professor, Geronimo must journey into space!

Mama opines: This is a great series. Geronimo is now the protagonist of more than 60 books. His adventures take him to Venice, Japan, and the Wild West. These books would be fantastic for a reluctant reader or one who loves comic books. They are chapter books with lots of pictures and important words are often in different colors and fonts, which makes the pages look like more fun than your normal sea of text. My favorite part is the family aspect of these books - the other characters are frequently Geronimo's sister Thea, cousin Trap, and nephew Benjamin. Thea even has her own companion series!

Thoughts from David: Well, Geronimo Stilton runs a newspaper - The Rodent's Gazette. In Mouse in Space, there is the secret agent 00K and guess who drives him to the meeting? A robot! And guess what happens! He scares away the two cheese brains in black masks with his very own bedroom slippers.
Favorite part: When he tries to fix the space ship and goes flying off!
Happy Reading!