Dead Wake: The Last Crossing of the Lusitania
By Erik Larson
Crown March 2015
359 pages
From the library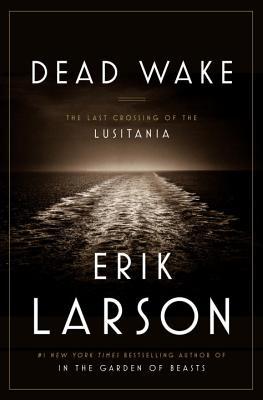 The ship sank in less than twenty minutes. The passengers on the Lusitania knew they were traveling through U-boat territory, but they never imagined that a German captain would fire on a passenger ship. The captain received so many conflicting messages that he actually steered them into danger. The members of the crew who knew how to operate the life boats were the same people killed upon impact when the torpedo hit the ship where the luggage was being sorted for their arrival.
Dead Wake
is a staggering work of research. It feels as if Larson saw one thread and pulled it and then saw another one and pulled that one too. Everything is meticulously laid out for the reader, so they can see just how unlikely it was that the Lusitania would have been sunk and how the smallest change by any of a number of people would have altered that awful day.
Larson is not content to give you as much information as possible about May 7, 1915. Instead, he goes in depth about the lives of passengers and crew before and after that day, he gives readers insight into the inner workings of a passenger line during war time, and he brings home the uncertainties of war for those fighting and waiting on both sides. We even spend time with Woodrow Wilson and Winston Churchill, who were either too distracted by events in their own life to see the potential danger or perhaps hoped for an inciting incident like this to spur the United States towards joining the war.
One of the most fascinating things to read about is military service on a submarine. Some chapters deal with the terrifying nature of that life, as crews were cut off from everyone else and had to surface without knowing what they would find. But most fascinating is Larson's research into the captain of the U-boat that sunk that Lusitania. By all accounts, Walter Schwieger was a great guy. He even rescued puppies from a ship that they torpedoed and kept one on board as their mascot. But he was also a ruthless commander, determined to sink the most tonnage of any German submarine.
When I finish reading a book by Erik Larson, I always feel as if I have learned a great deal. He has a gift for making history come alive and sending readers to do further research about the people and events they discover in his books. Each chapter is full of detail about the way people lived and the place and time that they lived in, but the story is never bogged down by too much information. Even though we know how the story will end, the tension builds as decision after decision move the blissfully ignorant passengers of the Lusitania towards a terrible moment that will forever change their lives and the course of world history.