Royal Wedding (Princess Diaries #11)
By Meg Cabot
William Morrow June 2015
435 pages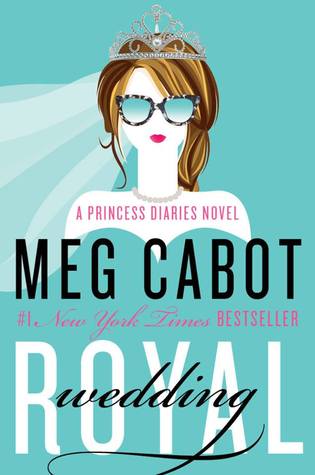 I don't really believe in guilty pleasures - if you like something, why feel guilty about it? But I do have certain comfort pleasures, which are books or movies that I turn to when I need a pick me up or I just need some familiar background noise. As a kid/teen, I was decidedly a part owner of the Princess Diaries box set which contained the first three books in the series. While they have gone on to live with another sister, I do still enjoy watching the movies. Often. I adore both of them.
So when I saw that Meg Cabot was writing another (final?) book about Mia and her royal family, I knew I wanted in. The gawky teenager has turned into a grownup who spends her days lending her princess support to worthy causes, running a community center, and seeing her boyfriend Michael. Life has been rather stressful lately so when Michael manages to whisk them both to a Caribbean island, she doesn't protest for long. And when he proposes? Mia of course agrees...although she can see all sorts of royal headaches when it comes to trying to have an intimate wedding in the midst of the paparazi and Grandmere. Just when she thought life couldn't possibly get any more interesting, she discovers a family bombshell that could change everything, including the Renaldo family's rule of Genovia.
One of the things I've always enjoyed about this series is the way that Meg Cabot used a variety of mediums. In Royal Wedding, we start with a newspaper article and then the story jumps between Mia's journal, text messages, and other notes. It gives us a sense of Mia's personality in a way that would have been hard to convey through traditional writing. And while she may have been dealing with this princess thing for years now, it doesn't mean she is any less angry when reporters ask her stupid questions or her grandmother categorically declares that a princess cannot have mini grilled cheese sandwiches at her wedding reception. There were moments when Mia still sounded a bit like a teenager, but I think it's easy for us to forget that people don't grow up all at once. And of course, there is a wide gap between professional public persona and your most intimate griping. If a journal isn't a place to hold our frustrations and whiniest moments, then I'm not sure what is!
Reuniting with beloved characters always feels somewhat like going home. My generation grew up with Mia and so seeing her juggle a job and family and a wedding looks a lot like the things we are juggling as well, even if we don't have to wear a tiara. All of the other characters that we love are back as well - Michael has started his own robotic medical company, Lily is going to law school, Tina is becoming a doctor, Grandmere is still trying to run everyone's lives, and Lars is standing guard over them all.
Royal Wedding is the perfect book to throw into your beach bag this summer. If you grew up reading about and loving Mia, don't miss the chance to jump back into her crazy life and see how she deals with everything princess life can throw at her!
Need more Royal Wedding love? Hop over to
TLC Book Tours
, where 23 other bloggers are sharing their thoughts!